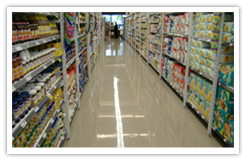 Welcome to N.N. Janitorial Service
OUR MISSIION STATEMENT
To make your image our responsibility, by providing quality facility services that exceed our customers expectation.
From modest beginnings in NNJS has grown to become a trusted guardian of first impressions. Our single source, single responsibility approach to floor care, office cleaning and sanitation has brought about the development of some of the most effective ,efficient maintenance programs in the industry. Our commitment to exceed expectations is taken seriously by our friendly, experienced staff, who are always anxious to assist with all phases of planning, scheduling and implementation. Consistency, attention to detail and absolute determination to meet the needs of our clients, make NNJS the right choice for Canada's leading corporations and property managers.
With more than four decades of industry experience NNJS has developed a series of very effective processes and controls to ensure unsurpassed results on every assignment. All employees are backed up by our head-office support team, and also also by supervisors and field managers who are available by cell phone. Regular field inspections are scheduled with our client to discuss performance, challenges and opportunities. Our structured follow-up programs are tailored to the tasks and specifications of each job site. They include customized project scheduling and implementation, quality control checklists and regular site visits by management personnel. We thrive on constructive suggestions and continually seek new methods and technologies to deliver superior services.